Personalised Engraved Heart Shaped Cheese Board Gift Set - SWEET DREAMS ARE MADE OF BRIE 2
---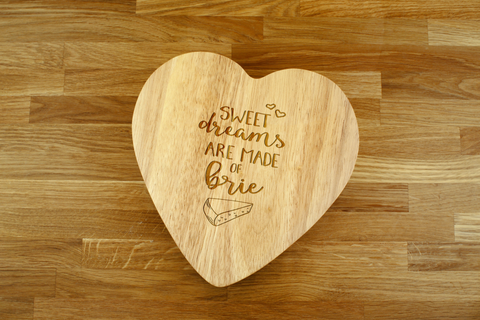 Are you a fan of quiet romantic evenings, when with a glass of wine and favorite snack on hand, you can finally sit down for your favorite series?
Relax in the way you like, and put your treats and snacks on our practical personalised cheese board!

Unique engraved PERSONALISED wooden Heart Shaped Cheese Board - a great gift for any occasion! - SWEET DREAMS ARE MADE OF BRIE
Must-have for any cheese lover!

Perfect gift for wedding or anniversary for couples! Must-have for any cheese lover!
☟ Product features ☟

      ⍟ Fantastic gift idea 
      ⍟ Perfect for dinner parties
      ⍟ Hidden integrated knife and fork compartment
      ⍟ Heart-shaped board
      ⍟ Eco-friendly! 🌍
      ⍟ Made in the UK 🇬🇧

☟ Specification ☟

Size

21 cm (8.27") x 21 cm (8.27")

Depth: 4 cm (1.57")

Material Eco-Friendly Hevea Wood
Accessories Stainless Steel Cheese Cutlery
3 Piece Cutlery Set 1 x cheese fork, 2 x cheese knives

Dishwasher Safe No
Care Instructions: Do not clean in the dishwasher or leave to soak in the bowl. Just clean rinse and dry
Check out our full range of cheese boards and chopping boards.Many styles available.
If you can't find what you are looking for, let us know via chat or email!
We will produce the cheese board with your own idea!
✂ Just personalise it with your own design! ✂
☞ You can personalise your custom cheese board with your own logo, picture or custom text of your preference.  ✉ Just send us a message with your idea!
Cheeseboard is also a fantastic gift for couples celebrating a special occasion such as birthday, wedding or anniversary!
Perfect Christmas, Birthday, Wedding or Anniversary Gift for any Cheese Lover!
Related Products
---