Personalised Engraved Stone Slate Coaster - PAPA BEER GOES HERE
---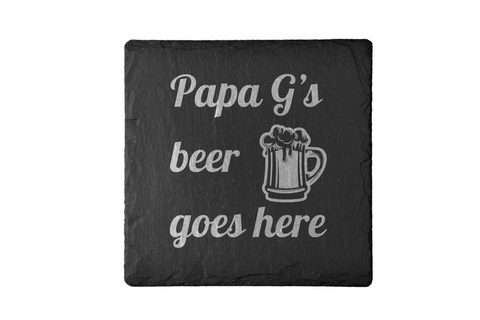 ✂ PERSONALISED Engraved Stone Slate Coaster PAPA BEER GOES HERE ✂
Unique Personalised Engraved Slate Stone Coaster ANY DESIGN Birthday Wedding Anniversary Xmas Gift - PAPA BEER GOES HERE

Set your table in style with these stunning slate coasters.

☟ Product features ☟

      ⍟ Fantastic gift idea 🎁   
      ⍟ Great present for someone special 💖
      ⍟ Made from strong slate
      ⍟ ANY design ANY message
      ⍟ Brings an element of sophistication
      ⍟ Eco-friendly! 🌎
      ⍟ Fully personalised ✍️
      ⍟ Made in Britain 🇬🇧
      ⍟ Fast & Free Shipping 🚚

☟ Specification ☟ 
Each coaster comes with padded low profile feet as standard to prevent surface scratching.
Material Slate

Care Instructions Wipe clean only.
☞ Custom order welcome, please just contact for the details!! ☜
✂ Just personalise it with your own design! ✂
☞ You can personalise your custom slate coaster with your own logo, picture or custom text of your preference.  ✉ Just send us a message with your idea!
Treat your friend or loved ones with the personalised coaster. Whether you're buying for a birthday, anniversary or just want to show someone how much you care. Our photo frames can be personalised for any occasion. 
Related Products
---